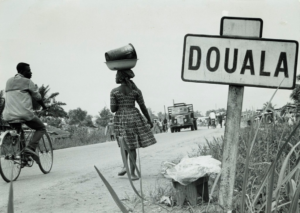 Douala is Cameroon's economic capital and port city with over 4 million people, where cycling once thrived. Settlers imported bicycles before entrepreneurs opened the first bicycle assembly plant in the city in the early 1950s. Today motorcycle taxis rather than bicycles dominate the streets. Still, cycling is important. Cameroon hosts two International Cycling Union (UCI) tours—The Tour of Cameroon and the Chantal Biya Grand Prix—with Douala as the start and finishing line.
Why did cycling in Douala thrive before declining and making a modest comeback?
Three factors are important. First, the city's physical layout is conducive for cycling: it is flat. Second, when Douala was selected to host the colonial exposition in 1884, importers introduced the bicycles to Cameroonian territory until entrepreneurs opened the first bicycle assembly plant in the 1950s. The business community continued to encourage cycling: today companies like SNH, Cimencam, Castel, and Camtel sponsor sports events, putting the bicycle regularly in the spotlight. Third, most recently, city authorities have promoted cycling as a means of travel.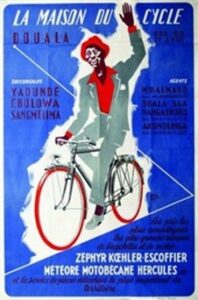 Cycling practice and policy has been marked by three historical moments:
During colonialism and since independence in 1960, cycling thrived for almost a century (1884-1985): people used bicycles as their primary means of transportation. The heyday was between 1960 and early 1980s, when Douala had a bicycle assembly plant. Bicycles were accessible and highly valued.
After the 1985 economic crisis, cycling began to decline rapidly (1985-2012). Policymakers lowered public investments, households impoverished, state enterprises privatized, and many businesses shut down—making the country one of the Heavily Indebted Poor Countries (HIPC).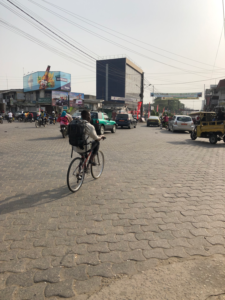 In 2017, cycling made a return. The city council of Douala implemented the Sustainable Development Goals—among other initiatives—to build the first bicycle paths. Together with the recently established bicycle associations, the city began promoting the many advantages of cycling through events including "Bicycle Day" and "Day without cars in Douala."
The research analyses the factors that either promoted or slowed bicycles diffusion as a transport mode and the prospects for the bicycle in a context where transport systems are lagging. Data covers several types of sources. First, scholarship, webography, grey literature on Cameroonian colonialism and social networks, personal papers, and family archives. Second, a survey (December 2021-2022) among Douala residents on the cycling (non) practice. Third, semi-structured interviews using under the snowball technique with key informants like former journalists and bicycle enthusiasts.
Urban Studies Foundation International Fellow Salifou Ndam and geography Professor Patrick Rérat are bringing the fascinating story of Douala's cycling history to life.
The research is part of Cycling Cities: The African Experience and made possible by The African Urban Mobilities: Past, Present and Future Network with support from Institute of Geography and Sustainability, University of Lausanne (Switzerland) and its Observatory of Cycling and Active Mobility (OUVEMA); the University of Witswatersrand, History Workshop, South Africa; University of College London Urban Laboratory; History Department, Bayero University, Nigeria; and Eindhoven University of Technology, TIS History Lab and SHT with support from VREF.