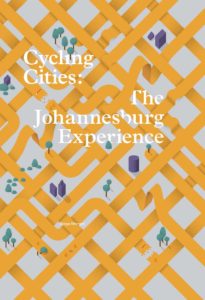 Bringing Johannesburg's history of everyday cycling from the archive into the present Johannesburg today is synonymous with the automobile: highways, traffic lights, the minibus taxi and the 4×4 are emblematic of southern Africa's economic heart. Challenging  a future locked in to these spatial patterns is a key policy goal today, reflected in the efforts of the city, province and civil society to offer more and better alternatives to car dominance. Yet other mobility cultures once beckoned – such as the forgotten history of Johannesburg's working-class commuter cycling culture. Njogu Morgan's pioneering archival research has brought this very different Johannesburg to light – one where bicycle lanes crept along the Rand before the first motorway.
Cycling Cities: The Johannesburg Experience  brings this important and challenging history to a new public, and starts a dialogue between Johannesburg and the cycling histories of a growing number of cities worldwide. It provides a historical context for future discussions about cycling and shows the dynamics behind the governance of cycling in the past.  The book tells the human story of how the mobility that bicycles afforded people of color, and particularly black working-class men, challenged Apartheid dreams of control.
More about the author
Njogu Morgan took undergraduate studies in Political Science and International Relations at Northwestern University, Chicago, and a Master's in Public and Development Management from the University of the Witwatersrand before completing his PhD in Town and Regional Planning at the same institution. His doctoral research, which examines the changing dynamics of bicycle use in Amsterdam, Beijing, Chicago and Johannesburg, forms the basis for this book, along with Morgan's involvement in present-day efforts to bring about a more cycleable greater Johannesburg through organisations such as JUCA, the Johannesburg Urban Cyclists' Association.
"In the wake of the bicycle's role as an affordable transport solution that also delivers health, economic, environ-mental and other social benefits, one intention of the book is to re-inject a sense of agency into bicycle planning in Johannesburg. A major theme of the book is how deliberate (and unintentional) decisions by a variety of actors transformed the city into a less friendly space for the bike. Therefore, while some of those decisions made in the past have strong echoes today (inhibiting everyday cycling), other ones can be taken over time to create a better cycling context."

– Njogu Morgan