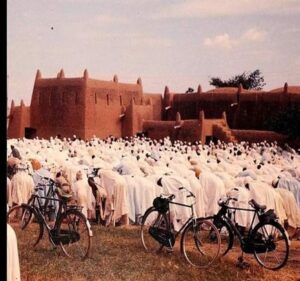 Nigerians neither were averse nor strangers to the bicycle. Elderly Nigerians recall with nostalgia how bicycles were an intricate part of the nation's social fabric and transport infrastructure. In rural areas, suburban, and developing urban centers, the bicycle became the exclusive preserve of the elites like merchants (i.e., traders), teachers, and students since the 1920s until the early 1960s. Imported to Nigeria from Britain in 1911 as high-status goods, bicycles were used first by colonial officers and Christian missionaries to get around before Nigerians who served the British as messengers and delivery men were issued bicycles to do their work.
Kano, the capital of Kano state and the largest city after Lagos, was no exception. In the late 1920s, Kano successful businessmen and farmers like Alhassan Dantata, Muhammadu Koki, Adamu Jakada, Maikano Agogo, and Muhammadu Nagoda, who had profited from the colonial cash crop policy, bought bicycles to flaunt their wealth. Particularly popular were the English-made chrome plated bikes—known as Pan/Farin Keke (or white Raleigh)—imported by the United Africa Company (UAC), the British trading company in West Africa. The bicycles were prized possessions.
Since then, many ordinary Nigerian workers and peddlers took on cycling as their main transport. In the mid-1940s, many bicycle hiring shops opened in Kano in response to the transport problems in the city center. Renting instead of buying bicycles offered many Nigerian men an alternative option. Such rental serves not only helped people to get around and to the city, but popularized the bicycle, creating new markets. Major bicycle manufactures like the British Raleigh catered to the demand and moved their assembly plants to Nigeria—in particular to Kano, the major hub for the West African market. As more people moved to the city and public transit systems could no longer handle the crowds, Kano's residents found bikes a cheap and convenient way to navigate—and even avoid—ever-busier streets. Bikes help fill the mobility gap for ordinary working men, entrepreneurs, and peddlers.
The research and publication of the Kano cycling history is part of the Cycling Cities: The African Experience.
Dr. Yusuf Umar Madugu, lecturer at Department of History at Bayero University, Kano, Nigeria and an expert on the development of two-wheeler history, is heading the effort to reconstruct the fascinating story of cycling in Kano, Nigeria since 1900. The research is part of Cycling Cities: The African Experience and made possible by The African Urban Mobilities: Past, Present and Future Network with support from the University of Witswatersrand, History Workshop, South Africa, University of College London Urban Laboratory; History Department, Bayero University, Nigeria, and Eindhoven University of Technology, TIS History Lab and SHT with support from VREF.